SeaComm Advisor Text Version
SeaComm Advisor Newsletter
Fall/Winter Edition 2019
Cover Page
The Advisor
Some of what you will find in this issue:
2020 DreamBuyer Program
Beware of Holiday Scams
2019 Shirley Eagles Scholarship Winners
Celebrated Awards
President's Comment
"We are very pleased to soon become a part of the greater South Burlington community," states Scott A. Wilson, SeaComm President and Chief Executive Officer. "This new location is an extremely vibrant growing region, which affords us an opportunity to be a part of something so exceptional."
"Our reception so far into the market and the opportunity afforded to us by Pizzagalli Properties has been great, and we look forward to meeting our Vermont neighbors, in particular those in Bartlett Brook."
Scott Wilson
Groundbreaking in South Burlington, VT
SeaComm recently celebrated the groundbreaking for its seventh retail branch location at 1680 Shelburne Road in South Burlington, VT. The planned 3,500 sq. foot building is scheduled to be completed by year-end.
The anticipated full-service financial center will offer member solutions for all types of financial needs; including personal accounts, auto and recreational vehicle loans, mortgages, business solutions, investments and more. The branch will include a three-lane drive-through area, a 24/7 ActiveEdge® ATM that offers game changing security solutions, electronic cash recyclers at the teller stations and bicycle stand for those who wish to ride to the branch. Construction of the branch includes awareness of environmentally friendly materials.
The project design firm is P. W. Campbell of Pittsburgh Pa, who will also provide on-site supervision of of this project and the ongoing future growth plans into Essex and St. Albans, Vermont. The layout and design of the newest locations will integrate into the SeaComm brand and logo. SeaComm believes deeply in using local subcontractors in the communities in which it does business.
Included on the project are Acme Glass for all doors and windows; Avonda Air for plumbing and HVAC; Curtis Lumber of Burlington; Duquette Steel; New England Floor Covering; Norway and Sons Electrical; ProTech Contracting for carpentry, roofing/interiors; SD Ireland for all site work, concrete and paving; Tanner Masonry; Vermont Stone & Horticulture for landscaping and Exterus Furniture.
Pictured (l to r): Bill Taylor-P. W. Campbell Project Supervisor; Gary Fuller,SeaComm Board of Director; Patricia Dodge, SeaComm Board of Director; Scott A. Wilson, SeaComm President and Chief Executive Officer; Robert Santamoor SeaComm Board of Director and Jonathan Manor, SeaComm Business Development Representative.
Page 2
Progression photos for new location...
1680 Shelburne Road, South Burlington, VT
---
Statement from Scott A. Wilson, President & Chief Executive Officer
"We are progressing nicely with the construction of our South Burlington Branch. Steel for the drive-thru and front entrance has been erected, with walls and trusses to follow. We remain on track for a mid-December finish."
Statement from Myron F. Burns, Chairman of the Board of Directors
"We are excited that we've reached this point, and we count on all of our dedicated and talented staff as we move into the next chapter of SeaComm."
---
LoanEngine
Coming Soon! It is always important to SeaComm that you, as a member, have the ability to apply for and secure loans with ease. In order to enhance your loan experience, we have joined forces with Harland Clarke to soon introduce LoanEngine™ to you.
LoanEngine™ is a smart solution that provides ease to credit union members, who will be able to, not only view, but accept prescreened, personalized loan offers at their convenience, knowing beforehand interest rates, monthly payments and loan terms. Stay tuned!
Page 3
Great Rates On The Go
Our rates can put you behind the wheel!
With rates as low as 3.24% APR*, you can drive away happy knowing you have received a great rate on your next auto loan. As a SeaComm member you can save up to 1% on auto loans with our Member Rewards Program.
Up to 100% financing available
Minimum monthly payments as little as $50
Flexible payment options
Easy application and pre-approval process
We make the auto buying process simple. Visit our online buying center Garage Gizmo and check out local new and pre-owned inventory, access to a payment calculator, dealer locater and more!
*APR = Annual Percentage Rate. Rate is based on a FICO score of 730 or higher, a 60-month term with Member Rewards. Lower rates may apply for terms less than 60 months. Sample estimated payment of a $25,000 loan at 3.24% APR may be $451.90. This payment does not include insurances. Your rate may vary from what is listed. This is not a commitment to lend. Additional terms and conditions may apply.
Garage Gizmo
Garage Gizmo is SeaComm's full-service automotive online solution.
A partnership with GrooveCar Direct, the nation's leading resource for online auto research and shopping, allows opportunity for our members to search for a new or used vehicle through a wide list of local dealerships within the communities that we serve.
You will have the ability to evaluate what kind of car is right for you; where can I find the closest, trusted dealership, is it a good deal compared to other listings, and your monthly budget. All of this can be researched and answered in the comfort of your own home, through one online resource...Garage Gizmo!
Let Garage Gizmo steer you in the right direction to your next new or used vehicle! If you would like personal assistance to navigate the program, please contact Jessica at 800-764-0566 ext. 291. She is always happy to help members find their dream car!
When shopping for a new set of wheels...
...your first stop should be right here, at SeaComm. Though many people start their process on the dealer's lot, you'll enjoy a lower rate and a simple, no pressure loan application process.
This is why people are increasingly choosing to finance their cars directly through credit unions. In fact, auto loans comprise more than a third of all the active loans across the 5,600 credit unions in the U.S.
Getting an auto loan with your SeaComm is a great experience. Why? Because we exist to serve your best interest.
When you walk into SeaComm with the intention of taking out an auto loan, you'll be dealing with people who know who you are and what your financial reality is like. No one will try to push you into a loan you can't afford.
The process of applying for a SeaComm auto loan is simple, quick, and easy. [You can even apply for a loan online or over the phone.] Also, as a member of SeaComm, you already have a head-start on getting that pre-approval.
One of the biggest advantages you'll have when financing an auto loan through your credit union is a lower APR (Annual Percentage Rate.) Because you're working directly with the lender, you'll only hear the actual rate we offer instead of a potential marked-up rate.
Also, as a member-owned and operated institution, credit unions famously offer loan rates that are consistently lower than those offered by large lenders and banks. In fact, according to Bankrate, the average APR on a credit union auto loan in the beginning of 2019 was a full point lower than the rates offered by banks.
Another key advantage you'll enjoy from a credit union-financed auto loan is a more relaxed setting when determining how much you can afford to pay each month toward your new car. There's no rush and no pressure when you're sitting at SeaComm and working out your budget. In contrast, when you're standing in the dealer's lot surrounded by cars you wish you could afford, you're far more likely to make a decision you'll later come to regret.
If you're in the market for an auto loan, make SeaComm your first stop. You'll enjoy a lower rate and the friendly, professional service you've come to expect with us!
Page 4
Riddle #1
What can run but never walks, has a mouth but never talks, has a head but never weeps, has a bed but never sleeps?
Answer: A River
---
Riddle #2
What word can be written forward, backward or upside down, and can still be read from left to right?
Answer: Noon
---
Text the Keyword SEACOMM to (844) 573-2533
Stay up-to-date on our most exciting news and important information by opting-in to our recently launched text messaging marketing program!
Simply text the keywork SEACOMM to (844) 573-2533 to sign up.
You'll receive automatic updates delivered straight to your phone to keep you in-the-loop with information, such as:
New services
Giveaways
Holiday closings
Alerts
Credit Union events
...and so much more!
By participating, you agree to our SMS terms and conditions. To view these terms and conditions, please visit our website at www.seacomm.org
"Leaf" your stress behind with a Benefits Plus® Checking Account
Benefits include:
Consumer Protection
Travel Savings
Entertainment Discounts
AND more!
To enroll in Benefits Plus® a monthly fee will be charged as set forth in our fee schedule, which can be viewed at www.seacomm.org. Please refer to the actual policies for terms, conditions, and exclusions of coverage at www.benefits-plus.org.
Page 5
Career Milestones
SeaComm Staff Recognized for Years of Service
SeaComm management and Board of Directors recognize and congratulate staff members who have reached career milestones. As a special acknowledgment, each is treated to a recognition luncheon and gift.
Pictured (front row l to r) are Malinda Klepfer, Mortgage Loan Officer – 20 yrs.; Christine Marshall, Assistant Branch Manager – 20 yrs.; Paula Brown, Member Experience Manager – 30 yrs.; Melissa Cree, Core Support Specialist – 10 yrs.; Kim Holloway, Payment Operations Representative – 15 yrs.; Raechell Conn, Training Specialist – 10 yrs.; Nicole Mallette, Teller – 5 yrs.; Scott A. Wilson, President and Chief Executive Officer; (back row l to r) Tammy Harrigan, Vice President of Marketing and Communications – 30 yrs.; Mary Lynn Sharlow, Senior Teller – 20 yrs.; Sean Lynch, Financial Service Representative – 10 yrs.; Emilie Norton, Mortgage Loan Officer – 5 yrs.; Erica Kaye, Core Support Specialist Team Lead – 20 yrs.; and Trudi LaTrace, Assistant Vice President of Loan Operations – 30 yrs. Missing from photo is Katie Seidel, Senior Accounting Specialist – 15 yrs.
---
Ron Smith... Happy Retirement!
For 37 years Ron has been an integral part of the SeaComm management team, sharing his lending knowledge with our membership and staff. When Ron joined the employment of SeaComm Credit Union in 1982, the organization was $24 million in assets as compared to our current asset size of over half a billion! Needless to say, he has experienced a lot of change.
Ron has been instrumental in the research and development of our vast loan product offerings, which includes mortgages and home equity products, our current Visa® program and various consumer loans and lines-of-credit products.
Ron began his career as a Loan Manager and then transferred to Credit Operations Manager in 1987. He was given the title of Vice President of Loan Administration in 1992.
Ron is a native of the area, growing up in Louisville and graduating from Massena Central in 1970. He attended Canton ATC through 1972.
He and his wife Marcia, along with their dog Ramsey reside in Massena.
---
Strictly Business: 2019 Gen-Next in Leadership Award Yvonne Alterie
Each year, members of the business community nominate deserving young professionals to be featured in the Strictly Business Magazine, published by The Northeast Group of Plattsburgh.
This year, we are thrilled to announce that our Plattsburgh Branch Manager, Yvonne Alterie, was recognized with a 2019 Gen-Next in Leadership Award for her role within the credit union. She's earned this honor by making a positive mark on the industry and community through her dedication and talent.
We are proud of Yvonne's accomplishment and congratulate her on a job-well-done!
Page 6
Fun Times!
Adventure is Calling
Employee Appreciation Day - August 2019
Hosted at Great Escape in Lake George, NY
Page 7
'Tis the Season
'Tis the season to be jolly! And unfortunately, 'tis also the season for scammers to go after your hard-earned dollars. Keep your money safe by reading up on the most common scams taking place this time of year and practicing caution.
1. Phishing emails
Always popular, phishing scams get even more prevalent before the holidays. They can take the form of bogus delivery confirmation requests seeking your information or even a personalized letter to your child from "Santa."
Be extra careful this holiday season when it comes to sharing personal information online or with an unverified requester.
2. Fake charities
Sadly, many scammers will capitalize on the goodwill that flourishes this time of year by asking you to make a donation to a charity that does not actually exist. Verify the authenticity of any charity you'd like to make a contribution to by checking it out on a website like CharityNavigator.org. Also, it's best to contact a charity on your own instead of following a website or email link.
3. Package theft
It's holiday time, and those UPS and FedEx trucks are everywhere, dropping off boxes of goodies all over the neighborhood.
Usually, these drop-offs go as planned. Unfortunately, though, some 23 million customers will have their packages stolen from their doorsteps this year.
Don't be one of them! If possible, and especially when ordering something expensive, arrange for a delivery that requires your signature upon receipt. Otherwise, track your order and know when to look out for it so you can bring it inside as quickly as possible after it's dropped off.
When sending a gift to someone else via Amazon, consider sending it to an Amazon Locker location instead of to the recipient's household. There's no fee for using this service, and this way, your gift is safe.
4. Bogus sites
You might get lucky and find that perfect gift at a super-low price, but don't believe any ads or websites that are practically giving away the good stuff for free. These are, quite likely, scams.
Once you click an ad link and place an order, you'll never hear from the site again. Worse yet, they may use the information you shared to empty your accounts.
Only shop on reputable sites. Remember to check the website address/URL before placing an order. It may look strikingly similar to a popular site, but if one letter is off or missing completely, the site is bogus and you need to get out. Also, always look for that important "s" after the "http" in the web address to verify a site's security.
5. Fake freebies
Did you really just see a Facebook post offering you a new iPhone, completely free of charge? If you have, run the other way and don't look back! You're looking at a scam, designed to lure you into sharing your information with criminals or unwittingly installing malware on your device.
6. Defunct gift cards
Many scammers sell expired or empty gift cards this time of year, hoping to make a profit on a card that isn't worth more than the plastic used to make it.
Ask to inspect any gift card you purchase before you finalize the sale. Check to see if the activation code is exposed. If it is, the scammer has probably already used the card or has copied the information and will use it soon.
7. Temporary holiday jobs
Lots of businesses are hiring extra hands to get them through the busy holiday season. Don't get stuck working for criminals!
Many scammers will pose as employees of recognized businesses and post help-wanted ads on social media platforms and popular websites. When a job seeker follows the links in these ads, they are directed to a bogus site that looks just like the site of the company the scammer claims to represent. They'll be asked to share personal information to submit an application. The scammer will then make off with this information and the promised job will never materialize.
If you're looking for a seasonal job, apply in-person or directly on a business's website. Do not follow any links.
As always, be aware and be cautious when enjoying the holiday season. Don't get grinched! Stay alert and use caution to keep your money — and your information — safe.
Page 8
Talk with Scott Wilson
Once per quarter, the President/CEO will come to you! Below are the scheduled dates for the first half of the year.
Potsdam Branch - September 26th
Ogdensburg Branch - November 7th
All sessions will run 11:30am to noon.
Follow him on Twitter (twitter.com/@SeaCommCEO) and Instagram (Instagram/@SeaCommCEO)
---
Message from the President and Chief Executive Officer
As we move well into the third quarter, SeaComm continues to be on target to meet our expected forecast set forth in the FY19 operating budget. Member satisfaction, staff engagement and overall profitability continues to remain high. We have also begun construction on the first of three planned branches in Vermont.
Our Financial Position Today Continues to Remain Solid
Net income as of August 31, 2019 is $3,848,896. Our net assets at the end of August were $569,448,527. At the same time, net operating expenses YTD were 2.19%, well below the 3% targeted goal set by the credit union's budget. Today, we have $88 million in total equity to date. Capital remains a key component to our financial health, as it is necessary to grow adequate reserves so we are able to withstand any uncertainty as our assets continue to increase and thereby be viable well into the future.
Weiss, an independent rating agency, has once again provided SeaComm the A- rating in terms of excellent financial strength. BauerFinancial, another independent rating company, awarded us their Superior Five-Stars. They analyze the performance of U.S. Banks and Credit Unions. The star ratings classify each credit union based upon a complex formula which factors in relevant data including, but not limited to: capital, historical trends, loan delinquencies, differences in the book and market values of the investment portfolio, profitability, repossessed assets, reserves, charge-offs, regulatory compliance and asset quality. It has deemed SeaComm as safe, financially sound, and that we are operating well above regulatory capital requirements. Deposit Accounts has also given us an A rating for Q1 FY19; one of the highest health grades given out.
Annual Meeting
In my report at this year's annual meeting in May, we were pleased to announce 2018 was another exceptional year for SeaComm. Highlights for the previous year, included: continued market share penetration at 32% with 1.27% in Clinton County, membership growth at 4% as well as a solid fifth year for our SeaComm Personal Advisor Services with over $30 million of assets under management.
The overall message relayed was that SeaComm is committed to ensuring our members get the very best in member service, core products and a diverse delivery channel model. Two Directors were re-elected to 3-year terms, Patricia Dodge and Keith Edwards. A podcast recapping the meeting is available on our website.
Market Expansion
Last year, the Board of Directors approved plans to move forward with the construction of three new retail branches in Vermont. In 2017 the Board of Directors moved ahead with the approved expansion into Grand Isle, Franklin and Chittenden Counties after the National Credit Union Administration approved SeaComm's charter expansion request, which now encompasses all of Franklin, St. Lawrence, Essex, Clinton Counties in NY and the aforementioned three in Vermont. We have targeted our South Burlington branch to be in full operation January 2020. The two remaining branches will be located in the areas of Essex and St. Albans and will be completed in 2020 and 2021 concurrently.
Although we are adding another brand new market for us to serve, we are committed to exceeding member expectations as we always have. It is important to know that we make certain that everything we plan and ultimately implement has member and employee satisfaction as our end goal. Our focus has and continues to be to offer our members a compelling value.
From the time a member walks into one of our branches, calls into our Call Center or logs in at one of our mobile delivery platforms, we want the experience to exceed their expectations. We don't take that lightly. In fact, we obsess over it. We believe so much in member satisfaction, that on a monthly basis, random surveys are sent out to members who have conducted some sort of transaction at the Credit Union. This can be as simple as a balance inquiry to applying for a loan. Whatever the circumstance, we want feedback on how the member was treated and if we did everything necessary to make them feel valued. The survey results are reviewed by everyone on the management team that is responsible for a retail area, as well as by my senior leadership team and me.
Earlier this year, we were also notified that SeaComm had been chosen for a ninth year in a row as one of the Best Companies to Work for in New York. Our selection as one of the top mid-sized companies was based upon a survey in which our employees were asked to participate, along with requested criteria we had to provide. A few of the focus areas included role satisfaction, leadership and planning, work environment, corporate culture and communication as well as relationship with supervisor. Our overall staff engagement was 95%. We are extremely proud to be included within this privileged group.
Governmental Affairs
SeaComm's involvement in the credit union movement goes beyond our geographic market of the North Country. Each year, members of our Board of Directors, senior staff and myself travel to Washington, D.C., to talk with key legislators about issues which are extremely important to the credit union industry. During that trip to D.C., I was privileged to go to NCUA headquarters in Alexandria, VA, to participate in a credit union roundtable with our new NCUA Eastern Regional Director Jane A. Walters. During our time with her and the staff, we discussed her expectation during on-site exams and answered a number of key questions as it related to regulation.
Our visit to Washington also included a visit to the Hill with 21st New York Congressional District Representative Elise Stefanik. The congresswoman has been supportive of legislation which would benefit credit unions, including, H.R. 225 Stopping Merchant Data Breaches, (which would require merchants to face the same strict data security that financial institutions are subject to under the Gramm Leach Bliley Act), as well as H.R. 1941/S.774 and the "Financial Institution Examination Fairness and Reform Act". In addition, she supports the continued protection of the credit union tax exemption status. She has also applauded credit unions for the efforts we play in the creation of jobs through small business lending.
What's Next?
As we look to the remainder of this year, we will be focusing our attention on our instant issue credit card platform. This will enable our members to come in, be approved for a credit card, and walk out with one the very same day. This will also assist our members who have had their cards compromised, so they do not have to wait ten business days for a new one to arrive in the mail. We already have this on our debit card platform. Our focus continues to be on enhancing our product and service offerings to meet the ever-changing business landscape and provide each member with a strong value proposition in being a member of our credit union. This is done through a consistent and responsible growth strategy.
On behalf of the Board of Directors, management and staff, we are grateful to our more than 48,000 members who have put their trust in us and we will continue to work diligently to remain strong in order to be able to serve well into the future.
Respectfully submitted,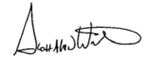 Scott A. Wilson
President and Chief Executive Officer

---
Future Highlights
What's Next?
We are looking forward to adding instant issue credit to our already robust instant issue debit card platform. If a member loses their current card or it is compromised due to fraudulent activity, we will be able to issue one instantly at any one of our branches, so our members will not be adversely affected by not having their card.
In addition, we are going to be launching a rewards checking titled Benefits Plus®. This new enhancement will give members who sign up, the ability to book travel, identify theft protection, roadside assistance, discounts on retail gift cards, cell phone coverage and so much more. Yes, we will continue to offer our free checking to those members who enjoy a no fee or minimum balance required account.
---
The Evolution of Organizational Growth
We are also actively involved in our national trade organization Credit Union National Association, where I have been privileged to be interviewed for a number of white papers through the CEO Council on topics ranging from Leadership During a Crisis to Executive Team Chemistry to most recently the Evolution of Organizational Growth, and Professional Journey of a Credit Union CEO.
These papers afford us the opportunity to share key insights into topics that benefit our entire industry.
---
Listen to Scott's most recent podcasts for the latest financial news and updates! Find it online at www.seacomm.org.
Page 10
First Place "GOLD" in Community Engagement
SeaComm Marketing takes the Gold!
In May of this year, we were proud to announce that the SeaComm Marketing Department took home the GOLD at the Marketing Association of Credit Unions awards ceremony!
Our team received FIRST PLACE for their 2018 "Community Engagement" efforts among credit unions with assets of $501 to $999 million, for the ongoing Pay-It-Forward Program.
As you may have seen or experienced, the award winning Pay-It-Forward Program serves as an initiative to give back to the communities that we serve by surprising residents with random acts of kindness.
The Community Engagement category is judged on activism, giving back and supporting local markets.
---
Pay-It-Forward 2019
We donated over 130 movie tickets to unsuspecting Plattsburgh residents, just before Valentine's Day. The movie tickets were randomly handed out at numerous locations throughout Plattsburgh, including CVPH Medical Center, Champlain Centre Mall, Plattsburgh City Police Department, and the downtown business district.
A large supply of toys, books and games were purchased and provided to the CVPH Kids' Closet. This donation directly benefits pediatric patients, with the hope of bringing them a little joy by allowing them to choose an item to play with and keep during their hospital stay.
SeaComm purchased 500 smoke alarms and donated them back to unsuspecting SeaComm members. The smoke alarms were given out randomly at all branch locations to help increase awareness and ensure the safety of local residents. This was a suggestion given to the Pay-It-Forward committee by Canton Branch Manager, Barb Bessette.
Visa gift cards, valued at $50 each were given to 150 students at local college campuses as long as they were willing to participate in a "trivia game" testing their knowledge about credit unions. Questions were asked about the difference between a credit union and bank; how to become a member or could they list all of our locations...just to name a few! We were pleasantly surprised at the response.
Mary Gilbert strategized her way around the Save-A-Lot store in Potsdam collecting over $340 worth of groceries in just 3 short minutes! She was the lucky winner of the Pay-It-Forward / Facebook sweepstakes called Spend-A-Palooza! Mary had the opportunity to gather groceries up to a prize value of $1,000. She did quite well!
Through SeaComm's patronage, 21 dogs and 21 cats at the Massena Humane Society, Potsdam Humane Society, Tri-Lakes Humane Society, and the Elmore SPCA, found their forever homes through the Pay-It-Forward program. In addition to sponsoring the adoption costs, SeaComm also donated a supply of pet bandannas to accompany each adopted pet as they left the shelter for their new homes.
Page 11
One of our most recent Pay-It-Forward events was at Ben & Jerry's in Burlington, Vermont! The staff at Ben & Jerry's worked with us helping to provide nearly 500 residents with FREE ice cream! This random act of kindness was our first Pay-It-Forward event in Vermont, as we get to know the community in preparation for the opening of our seventh branch location in South Burlington at the end of 2019.
In August, SeaComm purchased 400 ride tickets at the Franklin County Fair in Malone, and donated them back to families attending the fair on Children's Day. In addition to ride tickets, SeaComm also provided fairgoers with complimentary water bottle fans.
We donated a variety of school supplies to South Burlington's three elementary schools, helping to start off the 2019-20 school year.
The receiving schools were:
Chamberlin
Orchard
Rick Marcotte Central School
The supplies included backpacks, notebooks, binders, markers, crayons, pencils and much more!
---
Facebook - Top Fan Status Now Means More!
We've created the SeaComm Diamond Club, in which our Top Facebook Fans will be rewarded with a monthly giveaway! In order to spotlight the elite members of our Facebook page who have earned their way to Top Fan status, we'll send out a post that is ONLY visible to our Top Fans each month. The post will reveal the prize of the month and will allow the SeaComm Diamond Club members (Top Fans) to enter to win the prize in a random draw. The prizes will change every month, but the value will range up to $100!
You might be asking "But, how do I become a part of the SeaComm Diamond Club?" It's simple! The more often you interact with our Facebook page by liking, sharing, and commenting on our posts, the better chances you'll have of receiving a Top Fan status and joining the club!
The SeaComm Diamond Club monthly giveaway will be posted on a random day each month… so there's no room to slack! Just because you're on the Top Fan list one week, doesn't mean you'll be there the next week.
Keep an eye out throughout the month for a post with full details!
Please note: Facebook designates who our Top Fans are on a weekly basis. SeaComm does NOT have the ability to add to or control the selection process.
---
SeaComm will be closed for:
Columbus Day - Saturday, 10/12/19 & Monday, 10/14/19
Veterans' Day - Saturday, 11/9/19 & Monday, 11/11/19
Thanksgiving Day - Thursday, 11/28/19
Christmas Day - Wednesday, 12/25/19
Page 12
2020 Homebuyer Dream Program™
If you haven't been able to save for a down payment or don't have enough set aside to purchase the home of your dreams, the 2020 Homebuyer Dream Program™ might be what you need.
We have partnered with the Federal Home Loan Bank in offering down payment and closing cost assistance up to $14,500 to qualified homebuyers! This is a grant that makes funds available to first-time homebuyers earning at or below 80% of the Area Median Income.
If you feel you could qualify and want to know more about the program, we encourage you to stop in and meet with one of our experienced mortgage officers to discuss and assist you in getting started.
Call today to make your appointment (800-764-0566) or visit us online at www.seacomm.org.
Your new home awaits!
---
GreenPath Financial Wellness
Live Life Financially Well.
GET OUT OF DEBT
If you have a high interest credit card debt, a GreenPath Debt Management Plan may be able to help you to lower your interest rates AND pay off debt faster. Try our Debt Payoff Calculator to see how much you could save: greenpath.com/dmpcalc
SAVE MONEY
Looking to build savings? Let's make a spending plan to work toward your goals together.
BUILD CREDIT
Learn how to better understand your credit report, dispute inaccurate information, and manage your credit score.
PLAN FOR THE FUTURE
Our housing experts provide support during the homebuying process or when you're struggling with rent or mortgage payments.
Call for a FREE financial counseling session: 877-337-3399
Visit greenpathref.com for additional financial wellness tips and resources
Page 13
You're in the Spotlight!
In support of local business members, SeaComm highlights small business owner stories in the quarterly business newsletter called "Your Bottom Line." Here are the recaps of first and second quarters of 2019.
Help Sami Kick Cancer Foundation, Inc.
The Help Sami Kick Cancer Foundation, Inc. was founded by Jim and Karen Curtis after the unfortunate passing of their daughter, Samantha "Sami" M. Curtis, from a brain tumor. Since childhood, Sami attacked any goal or mission she put heart into, with a focus and passion rarely attainable for her age. She was on the St. Lawrence County Cancer Foundation from the age of thirteen, for which she raised thousands of dollars. She was an FFA officer, member of the National Honor Society, a three-sport athlete and much more. She received the Liberty Award which is the highest honor bestowed upon by the US Senate and also received the 2017 Woman of Distinction award from Senator Pattie Richie for all of her accomplishments.
Before Sami passed away, the St. Lawrence Cancer Foundation revealed that the money she had raised since being diagnosed in 2015 was going to be transferred to Northern New York Community Foundation for a legacy fund. After her passing, a doctor from UVM Children's hospital inquired if Sami's legacy fund could go to help newly diagnosed local pediatric patients and their families. Jim and Karen agreed, which was the beginning of the Help Sami Kick Cancer Foundation, Inc. With the new foundation they began assisting families, along with help from other area organizations, like Ryan's Wish and Jules of Life by providing financial relief to families affected by pediatric cancer.
Currently, Help Sami Kick Cancer Foundation is looking for the community's assistance in renovating The Lodge. If this story resonates with you, Karen and Jim would love to welcome you to reach out and tell them how you would like to help via e-mail at helpsamikickcancerfoundation@gmail.com. To learn more about the Help Sami Kick Cancer Foundation, Corp. or The Lodge at Dreaming Tree Ranch, you can find information at helpsamikickcancer.org.
---
The Blue Spruce Motel
The Blue Spruce Motel is a staple in the North Country's hospitality industry, boasting 15 rooms total and a well-stocked gift shop with handmade gifts, cheese curds, coffee, and old-fashioned donuts. The owners Gina and Mike Snyder, pride themselves on great customer service, anticipating your every need, and offering clean spacious rooms.
The Blue Spruce was originally built by Gina Snyder's father and mother John and Deborah Kearns in 1988 and started as a used car dealership. The property was also at one time a cheese outlet that offered cheese gift baskets that were shipped everywhere. This "love of curd" as Gina puts it; is still found at the Blue Spruce today as they offer cheese and cheese curds in their gift shop.
The Blue Spruce Motel strives to be "just a little bedder." Offering clean rooms, the bedding and shower curtains are washed before every stay with handmade laundry soap. Gina and Mike are determined to give the motel industry a good name. They guarantee; "No one has been sleeping in your bed," Gina stresses, "the only difference between a hotel and motel is: in a hotel, the entrance door to your room are inside, and a motel, the entrance door to your rooms are outside."
The Blue Spruce Motel has worked with various business clients who send employees to the area for work. Ten of the rooms are fully-functional suites that include a full-size kitchen, living room area, bathroom, and bedroom that cater to long-term clients. With a 7-day or more stay the rate is adjusted to "pass the savings forward."
In addition to the rooms, the Blue Spruce Motel offers a wide variety of amenities. Some of the amenities include a laundry room, outdoor tables with a grill area, free WiFi, and a gift shop. The motel has become famously known as the motel with the donuts, with fresh cast iron kettle old-fashioned donuts that are offered for sale to guests and the general public on Tuesdays through Saturdays.
One recent reviewer from Trip Advisor had this to say about their experience with staying at the Blue Spruce Motel; "I had occasion to stay here last weekend. The owners were very helpful and friendly. The room was absolutely spotless, as was the bathroom. I loved the tongue in cheek WiFi password! The coffee setup was the best I have ever seen. The room contained a microwave and refrigerator. If you ever visit Massena, I would suggest checking out the Blue Spruce!"
---
To book your stay, give them a call at (315) 764-1777 or visit them online at bluesprucemassena.com
Let us Spotlight your business!
We are proud of our business members and want to share your story! Contact Jerry Manor for more information. Call (315) 764-0566 or toll-free (800) 764-0566 or email jmanor@seacomm.org
Page 14
7 Money Myths you need to stop believing!
We all grow up hearing the same financial advice: Spend less, save more and invest early. While most of these words of wisdom ring true, there are lots of widespread money management tips that are actually false.
Outlined here are 7 money myths that might be causing you more financial stress than benefit.
Myth #1: Debit is always better than credit
Do you automatically reach for your debit card when making a purchase? While it's true that paying for expenses with money you already have in your account is often the best choice, there is a time and a place for credit cards as well.
The real deal: Credit cards get a bad rap for the debt trap they represent, but they may be your occasional payment method of choice. First, many credit cards offer rewards in the form of travel miles, cash-back systems and other bonuses. Second, building and maintaining a strong credit history is crucial for your financial wellness. The only way to achieve this is by using your credit cards and paying your bills on time. Finally, lots of credit cards offer purchase protection, which makes them the smarter payment method for big-ticket items.
Myth #2: Buy a home at all costs
It's part of the American Dream: Go to college, land the perfect job, get married and buy a house, complete with white picket fence and two cars in the driveway. Unfortunately, though, too many people are fixed on that dream without realizing that owning a home might not be in their best financial interests.
The real deal: For many people, including those who are not yet ready to put down roots or who anticipate a career change that necessitates moving across state lines, renting a home or apartment might be the better choice. It can also be a financially expedient option if you live in a super-expensive area.
Myth #3: Investing is only for rich people
Investing is for people who drive luxury vehicles and have homes in three different states. Or is it?
The real deal: Anyone with a small pile of money squirreled away can get a foothold in the stock market. A smart investment strategy can be the best way to let your money grow and put you on the track to financial independence. If you're a beginning investor, look into passively managed index funds for an easy way to start building your wealth.
Myth #4: My partner manages our finances, so I don't need to think about money at all
Are you living in blissful financial oblivion, confident that your partner is managing your money?
The real deal: Every adult should have a handle the family's finances, regardless of their partner's involvement. While it is fine for one partner to actively manage the family's money, it is crucial for both partners to be aware of the state of the family finances and to be capable of managing household expenses and investments if something happens to a partner.
Myth #5: Credit cards will get me through any financial crisis
Why would I need an emergency fund? I have credit cards!
The real deal: Depending on credit cards to get you through a financial emergency is the perfect way to dig yourself into a deep pit of debt. Credit cards should not be relied upon for a real financial emergency, such as a job loss, divorce or illness. It's best to build an emergency fund consisting of three to six months' worth of living expenses so you're completely covered for the unexpected.
Myth #6: I'm so young; I don't need to think about retirement
Who can think about retirement when it's so far down the road because they're just starting a career? Besides, who can afford to save for retirement when they're bogged down with more pressing expenses, like saving for a house and putting kids through college?
The real deal: There's no better time to start planning and saving for your retirement than right now. The younger you start building your retirement fund, the less you'll have to put away each month, and the more you'll save by the time you're ready to retire. Gift yourself with a comfortable, stress-free retirement by maxing out your 401(k) contributions, and/or opening an IRA or another retirement fund. Start today and let compound interest work its magic!
Myth #7: I have enough in my account to cover my expenses so I don't need to budget
Budgeting is for people who are barely squeaking through the month. I have enough money; so why budget?
The real deal: Budgeting is for everyone. Without a realistic budget in place, those pulling in a salary in the high six digits can easily spend their way into debt. A budget will force you to make responsible money choices and to be fully aware of the state of your finances at all times.
Page 15
2019 SCHOLARSHIPS
Caroline Bergan, daughter of Bill and Rosanne Bergan of Potsdam, graduated from Potsdam Central High School with a grade point average of 97. As an avid volunteer in the community, Caroline dedicated her free time to youth lacrosse, Hoop-Shoot fundraisers, local blood drives and roadside cleanups. Caroline is the recipient of the Performing Arts Scholarship from Syracuse University, where she will be pursuing a degree in Music Business.
Neil Yang, son of Mona Yang of Plattsburgh, graduated from Seton Catholic School, bringing an end to his high school career with a 92.75 grade point average. Neil spent much of his time teaching basketball, and representing his school on the boys' basketball team. It is through his talent in the sport that helped him to earn the title of "MVP". Accepted at Bentley University in Massachusetts, Neil will study mathematics and finance.
Isabelle Lebrun, daughter of John and Heidi Lebrun of Plattsburgh, concluded her high school career at Stanstead College in the province of Quebec. As a lover of sports and adventure, Isabelle spent her time serving as a coach for both summertime hockey and soccer camp. Isabelle will major in management at Long Island University in the 2019 semester, where she will also be one of the founding members of a new division 1 hockey team.
Octavia Viskovich, is the daughter of Tamara Lett of Massena. Octavia concluded her high school career at Massena Central as valedictorian of her class, with a grade point average of 99.31. She has spent her free time volunteering in the community, as well as becoming a blood donor. Octavia has been accepted to Le Moyne College, where she has been awarded the prestigious Presidential Scholarship. She will major in chemistry.
Gillianna Simcox, daughter of Timothy and Raelee Simcox of Norwood, is a graduate of Norwood-Norfolk Central School with a grade point average of 91.03. As an active member in her community, Gillianna has spent her time volunteering for the Potsdam Humane Society, Relay for Life, the Suicide Awareness Walk, highway cleanups and more. Gillianna's love and appreciation for animals has motivated her to pursue a career as a veterinarian. Gillianna is accepted to Clarkson University's Early Admission Program, where she will study veterinary science.
Kenneth Arquette, son of Dave and Mary Arquette of Akwesasne, graduated from Salmon River Central School with a grade point average of 99.20. In addition to volunteering for the Adirondack Task Force as a maple syrup producer, Kenneth has also served as a volunteer for his community where he participated in roadside clean-ups, and community gardening. As a Mohawk student, Kenneth was very proud to learn and speak the language of his ancestors. Kenneth will be attending SUNY Canton, where he will study to become a registered nurse.
Cole Fountain, is the son of Jennifer and Christopher Fountain of Malone, and a graduate of Franklin Academy. Cole has concluded his high school education with a grade point average of 92. While attending school, Cole spent a great deal of his time participating in both high school and community activities, including but not limited to; boys' varsity basketball, electrical trades repair group, lawn care and snow removal for community members, and a volunteer for the youth basketball program. Cole will attend SUNY Canton, where he will study homeland security and criminal investigation.
Kelsy Waite, daughter of Victor and Laurie Waite of Winthrop, graduated from Brasher Falls Central School with a GPA of 93.18. Throughout high school, Kelsy spent her time volunteering for youth soccer, as well as the Tri-Town Chamber of Commerce hayride. Kelsy's passion for softball has motivated her to pursue studies in athletic training at SUNY Plattsburgh.
Gage Martin, is the son of Troy Martin of Brushton. Gage graduated from Brushton-Moira Central School with a grade point average of 86.23. Throughout his high school career, Gage proved his strong work ethic as he dedicated numerous hours per week as a laborer, delivery driver, and dishwasher. Gage also spent time as a volunteer for the recycling group at his high school. Gage will be attending SUNY Brockport, where he will study to become a physical education teacher.
Cheyenne Planty, daughter of Tina and Ronald Planty II of Madrid, graduated from Madrid-Waddington Central School with a grade point average of 89.79. Cheyenne has volunteered her time as an advocate and tour guide for the BOCES program, and has worked in dining services at a local university. Cheyenne is the recipient of numerous scholarships, including the BK McLamore Foundation Scholarship, and the North Country Leaders Housing Scholarship. Cheyenne is accepted to SUNY Potsdam, where she will major in criminal justice.
Page 16
SeaComm
30 Stearns St
Massena, NY 13662
SmartLine: (315) 769-5821 or 1 (866) 769-5821
Website/NetTeller™: www.seacomm.org
Locations
Main Office
30 Stearns Street
Massena, NY 13662
Malone Branch
3349 Route 11
Malone, NY 12953
Potsdam Branch
6 Sisson Street
Potsdam, NY 13676
Canton Branch
101 East Main Street
Canton, NY 13617
Ogdensburg Branch
3001 Ford Street Extension
Ogdensburg, NY 13669
Plattsburgh Branch
139 Smithfield Blvd
Plattsburgh, NY 12901
This publication does not constitute legal, accounting or other professional advice. Although it is intended to be accurate, neither the publisher nor any other party assumes liability for loss or damage due to reliance on this material.
©2019 SeaComm Federal Credit Union