You can access your SeaComm accounts 24 hours a day, 7 days a week through your web-enabled cell phone or mobile device with Mobile Branch. Easily access your account information, transfer funds or find a branch or ATM right in the palm of your hand.
Getting Started With SeaComm Mobile Branch
Sign up for SeaComm NetTeller™ if you haven't already.
Using your web-enabled mobile device, download our app from the Google Play Store or the App Store.
Gain access to your account information through Mobile Branch by logging in with your NetTeller™ credentials.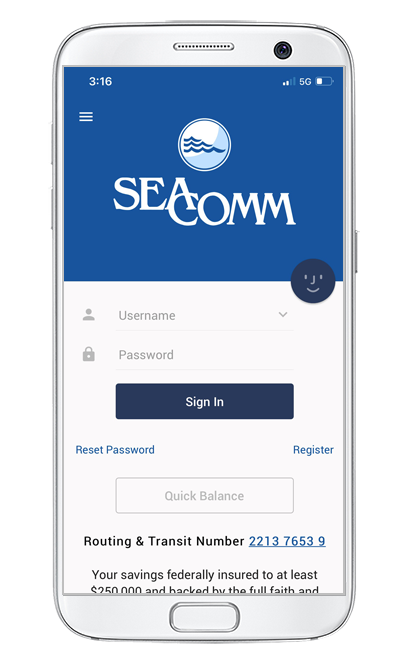 Login
Log in using your NetTeller™ username and password.
If you're using a device that hasn't been registered to your account yet, you will receive a message to the email address we have on file for you. Please follow the steps in the email to complete the setup process.
If we do not have an email on file for you, you will be prompted to contact the credit union to update this information.
Register
If you do not already have a Mobile Branch or NetTeller username and password, you must set one up before using our mobile app. You can do so by tapping on the "Register" link located below the sign in button.
Reset Password
Whether you forgot your password, it has expired, or you've locked yourself out with too many password attempts, simply click on the "Reset Password" link located below the "Sign In" button. This will allow you to change your password and/or unlock your account without leaving the app.
Quick Balance
The "Quick Balance" feature allows you to view your balance from this screen without having to log in to your account. For more details and to set up your preferences, click on the "Settings & Quick Balance" tab.
Routing & Transit Number
For your convenience, you can find our routing & transit number located at the bottom of your login screen. It can also be found within the app under the "About" menu option.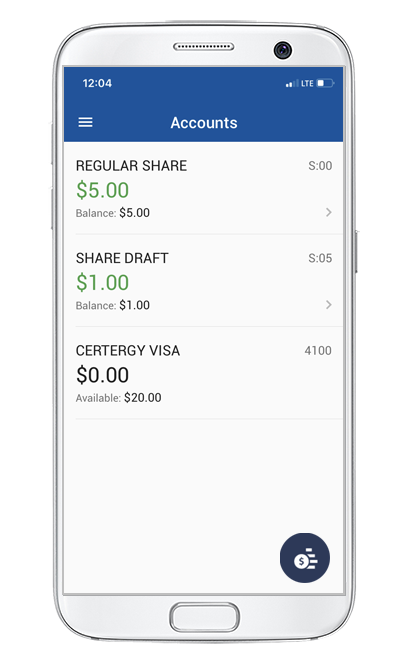 View Available Balances
Once you're logged into Mobile Branch, you'll see a list of your accounts along with your available balance on each account, as shown in the image to the left.
View Transaction History
You can click on any of the listed accounts to get your transaction history. Furthermore, you can click on each individual transaction to see more details including:
Date of transaction
Type of transaction
Location
Amount
Running balance
View Account Details
Tapping on any of your accounts in this list will also allow you to view further details by using the "details" tab. From this tab, you will be able to view the following information:
Account number
Routing number
Payment amount & due date
Payoff amount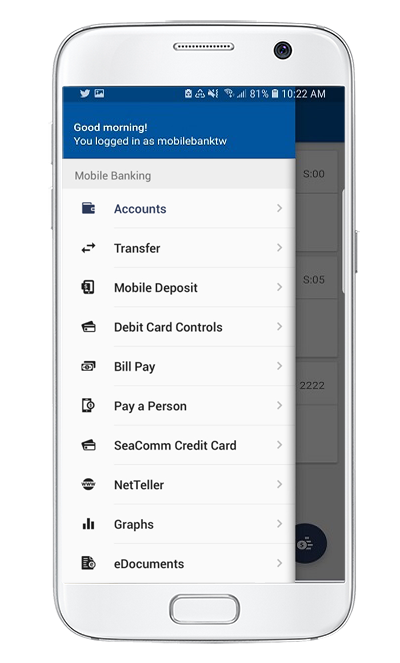 Mobile Branch Main Menu
To view the main menu, you can click on the three white bars at the top left of your screen to reveal the menu options. Select any of the listed features to get started. From these options, you will be able to:
View your account balances and transaction history
See your spending patterns
Transfer money between accounts
Apply for a loan
Make payments using Bill Pay
Deposit checks with Mobile Deposit
Turn your debit card "on" and "off"
View your credit card transactions and make payments
View pre-approved loan offers
Locate ATMs and find branch locations
Send secure messages to our help desk
Set up text banking and text alerts
Access your NetTeller™ account
Personalize your settings
Navigate through the menu options for a brief overview of each of these features.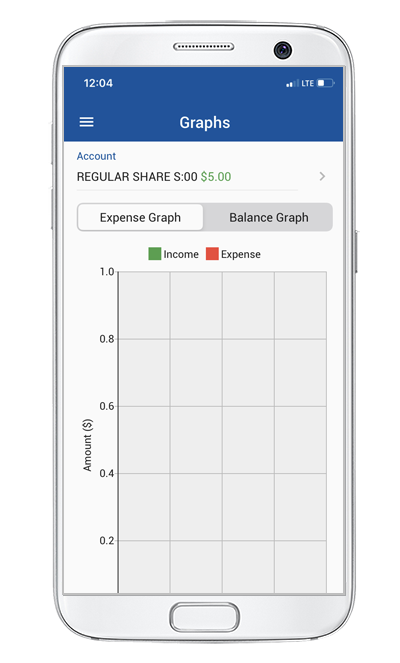 See Spending Patterns
Access this screen by choosing "Graphs" from the main menu. Here you can select which account you'd like to see spending patterns for and view the following:
A comparison bar graph of your income and expenses.

A balance graph that compares your income and expenses.

View time periods that range from 7 days, 30 days, 3 months, 6 months and one year.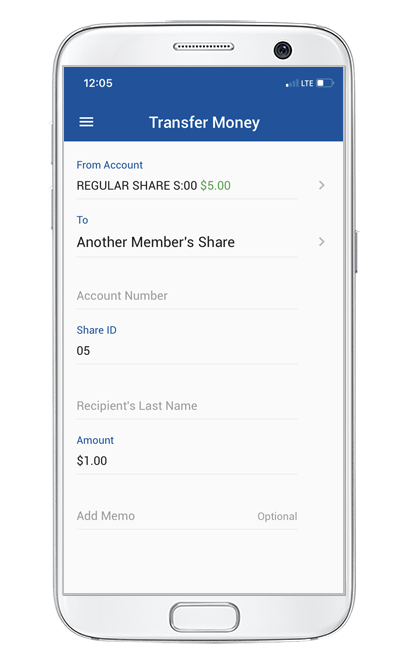 Transfer Funds
To transfer money from one account to another, select the "Transfer Money" option from the main menu. On this screen you will be able to:
Choose which account you wish to transfer your funds from.
Select an account that you wish to transfer funds to. You can transfer funds to an account of your own or to another member's account or loan.
Automatically transfer funds when you press submit.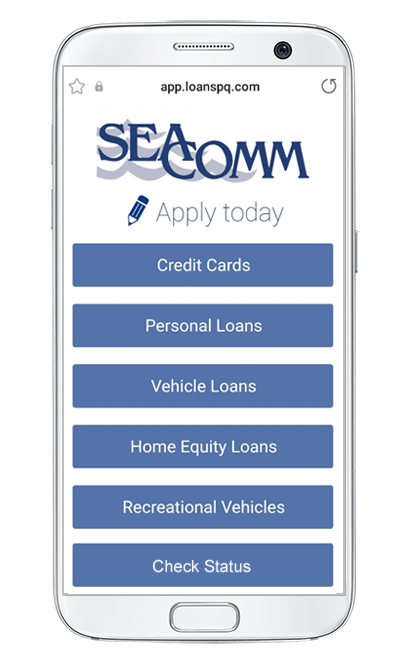 Apply For a Loan
Submitting a loan application has never been easier! Once you're signed in, just open the side menu and tap on the "Apply for a Loan" option. This will bring you through the steps to securely and conveniently apply for a loan right from the palm of your hand.
Available loans you can apply for within the app include:
Credit Cards
Personal Loans
Vehicle Loans
Home Equity Loans
Recreational Vehicles
Already applied? Check on the progress of your application by clicking on the "Check Status" button located at the end of the screen.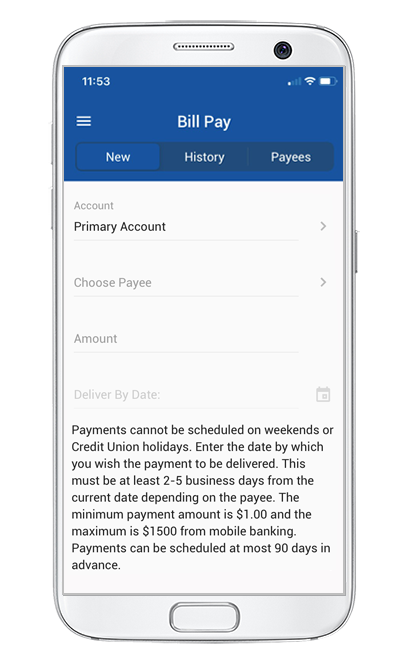 Bill Pay
Make and review payments by accessing the "Bill Pay" option from the main menu. Here you will be able to:
Pay bills and set payment dates
View your scheduled monthly payments
Access your bill pay history and check on payment status
View your payee list and add new payees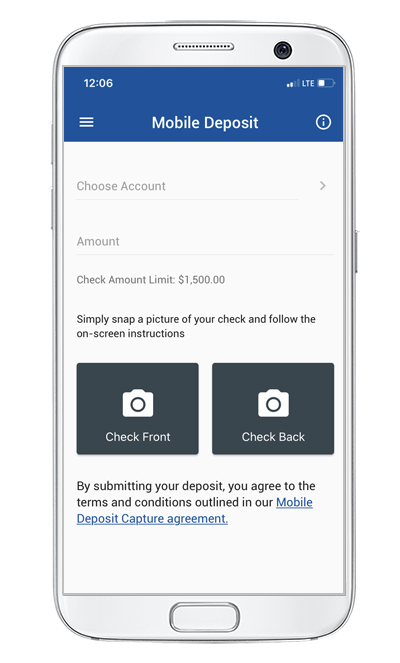 Mobile Deposit Capture
To access this screen, select "Mobile Deposit" from the main menu and enjoy the benefits such as:
Deposit checks directly to your account
Eliminate the need to travel to a branch
Easily make a deposit using your mobile device
Learn more about this service by clicking here.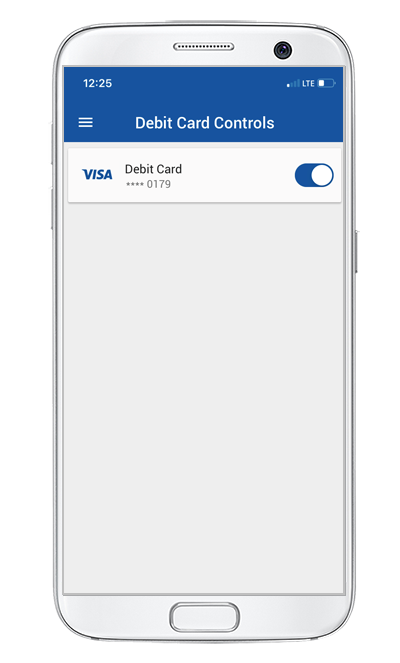 Debit Card Controls
As an added layer of security over your debit card, you can turn your card "on" or "off" in the "Debit Card Controls" menu option.
You can use this feature if your card has been lost or stolen to prevent any possible fraud until you find your card or order a new one. It's simple to use and only takes a swipe of a button.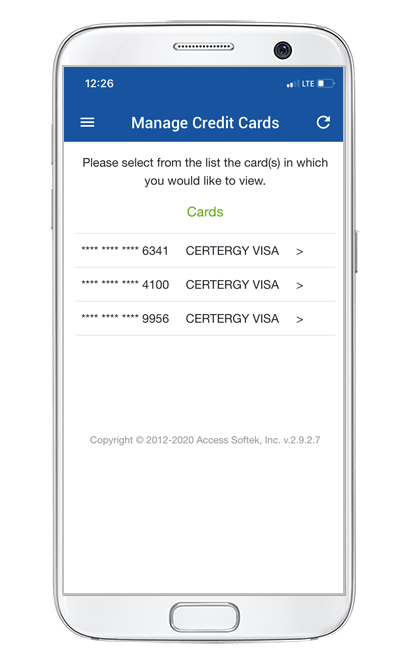 SeaComm Credit Card
If you have a credit card with us, the "SeaComm Credit Card" option allows you to:
Make payments
View transactions
Set up transaction alerts
View your balance
Check your available credit
See your payment due date
This feature uses eZCard single-sign-on, so you won't need to login again using your eZCard credentials.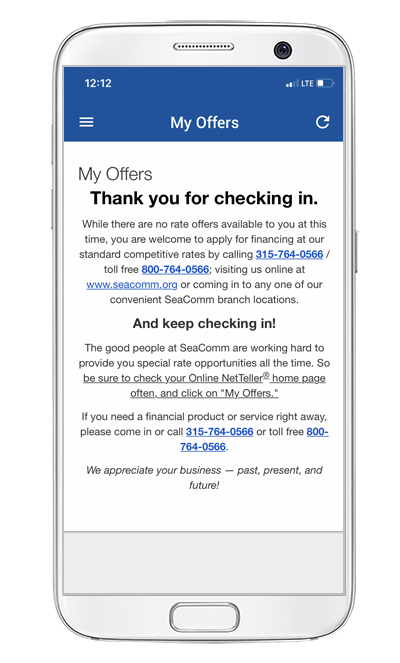 My Offers
View and accept pre-approved loan offers without having to come into a branch or fill out an application.
If you have offers available to you, you'll be able to find them on this screen. You'll have the ability to access, review, and accept them at any time by following the prompts.
No offers available? Check back at a later time, as offers are updated every 60 days.
Learn more about our LoanEngine™ pre-approval program here.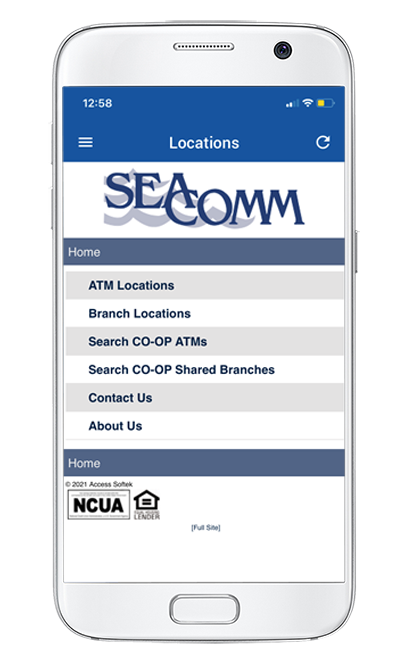 Locations
The "Locations" option on the main menu will allow you to:
Find addresses to our branch and ATM locations
Search for CO-OP Shared Branches and ATMs
View our business hours
Find our phone and fax numbers
Get directions using Google Maps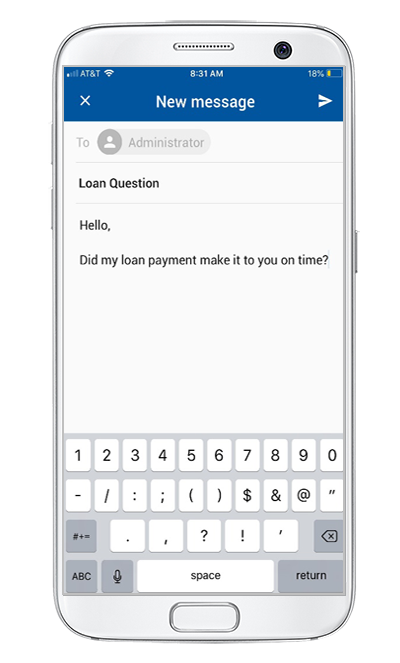 Messages
Send secure messages to our help desk using the "Messages" option in the main menu.
This feature provides a two-way communication forum, which has the following functionality:
Compose and send messages to our help desk
Receive responses and/or member-specific inquiries from a SeaComm representative
Receive global messages about important updates and notifications specific to the credit union
Access your message inbox at any time for future reference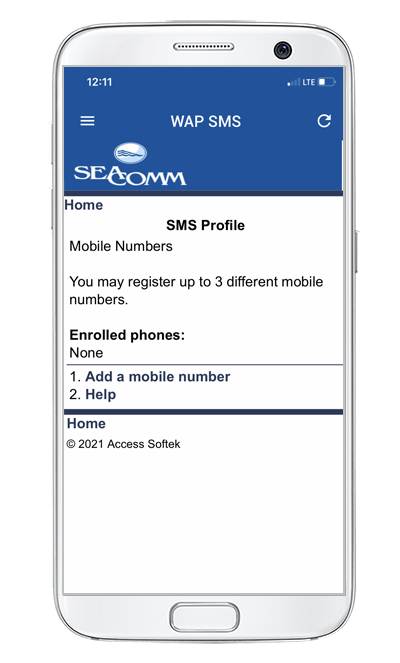 Text Banking & Alerts
The "Text Banking" option on the main menu allows you to sign up for SMS mobile banking. This allows you to send account requests via text message. You can use this service for the following purposes:
Retrieve account balances
View your recent history
Transfer money between your accounts
Transfer money to make a loan payment
Once you've signed up for text banking, you'll also have the option to set up text alerts. Text alerts can notify you when certain account activity happens, such as a change in your balance, or when your balance drops below a specified amount. You can also request to have an account summary texted to you daily.
PLEASE NOTE: Message and data rates may apply depending on your service provider and data plan.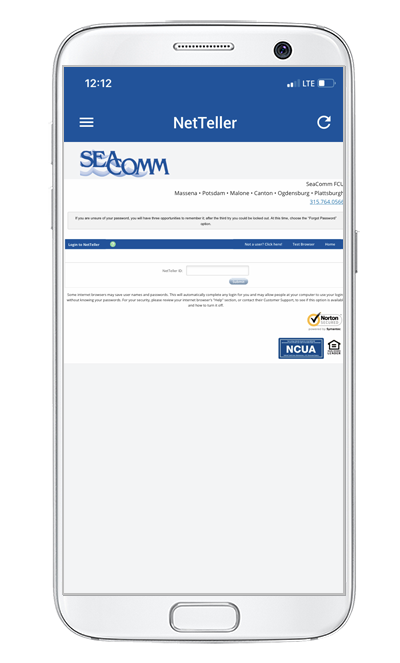 NetTeller™
For your convenience, you can login to your NetTeller™ account by clicking on the "NetTeller" menu option.
This will allow you to update your password, order checks, and more, all without leaving the app. It'll appear just as it does when using a computer.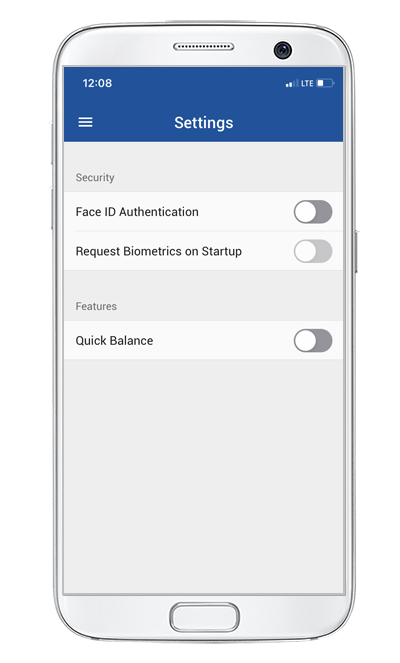 Settings & Quick Balance
The "Settings" option at the bottom of the main menu will allow you to customize your security settings and make adjustments to the quick balance feature.
Security setting options include:
Request biometrics on startup
Turn on fingerprint authorization
Allow Face ID authentication
Quick balance features allow you to view account balances on the login screen without entering your credentials. This can be turned on/off according to which accounts you want to make viewable.
PLEASE NOTE: Some features are only available if supported by the device you're using.
Security
Our Mobile Banking system uses multi-factor authentication for user verification and SSL encryption to ensure data transfers are secure.
SeaComm Mobile Branch is free however you may be charged access rates depending on your carrier. Web access is needed to use Mobile Banking. Check with your service provider for details on specific fees and charges. Screenshots were taken using an iPhone. Other operating systems may appear slightly different in design.